Beam Laser cutting Third Parties
The tube division of CMM specialises in laser cutting operations on beams, open profiles IPE – HEA – HEB – UNP, angle irons, flat laminates, U profiles, T profiles, omega profiles and special profiles.
Over the last ten years, castellated beams have been an excellent engineering solution, ushering in significant development in the construction of lighter-weight floor slabs with much higher dimensions and load-bearing capacities than traditional beams. At the same, it proved possible to improve the appearance of the products, by integrating system and lighting components more effectively. This technical-engineering solution has also led to new developments in the eld of architecture/urban furnishings. Laser cutting is the best technique to obtain extremely clean and precise finishes, and produce castellated beams without any restrictions in terms of shape and dimensions: CMM's operational and design skills find expression in the creation of complete structures, designed and manufactured in partnership with major international players, while guaranteed shorter lead times and unique precision at the assembly stage.
If you are looking for a partner for the production of laser beams, as well as for laser cutting metal sheets and laser cutting CMM tubes guarantees you reliability, experience and quality of the final product.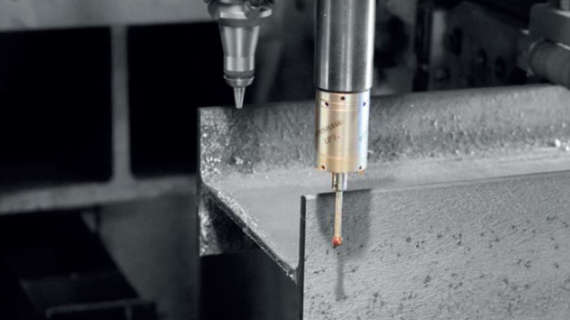 Touch Probe Technology
Thanks to the TOUCH PROBE and ACTIVE SCAN technology used on our laser cutting machines we guarantee a high degree of precision that only laser processing can guarantee. With this technology it is possible to enhance the laminated steel beam as we carry out workings that until now were not possible with traditional cutting and tool drilling machines. Laser cutting of laminated steel beams makes it possible to greatly reduce the production costs of numerous metal structures: this is why laser cutting has become the method used most widely to make slots and cuts without the constraints associated with drilling tools. With its systems CMM can drill holes of any shape and size, by means of CAD CAM systems developed directly by the manufacturers of the machinery.
News
Stay up to date on the laser cutting activity performed by CMM.
Contact us for information or to request a quote